I and my campaign have just finished one hell of an autumn. It's time to check in with my friends here and catch you up on developments. We have some really good things coming up.
I'm also asking for your contributions. I know this is a difficult time with the holidays and the Presidential primaries coming but I'm counting on you to help propel my campaign into 2008.

Personally, this has been an emotional time for me. In early October, my mom passed away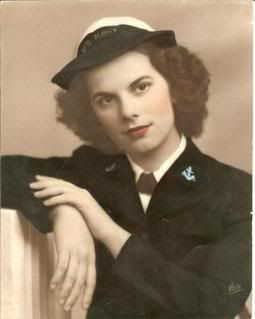 and that hit me harder than I thought it would. I still have my moments with this but I can now talk about it without breaking down.
While the wound in my heart was still fresh, we went to Chicago to meet with some top people in the party and many of the top Democratic House candidates you see touted on this site. It was an honor and a thrill to be among them and to see just how amazing and how skilled the cream of this year's crop of Democratic challengers will be. (We were asked not to blog about it, so we haven't.) I wish that that meeting could have happened at a time when I was not so distracted and weighed down with grief, but politics operates on its own calendar.
While we were in Chicago, the Malibu fires began, requiring hekebolos to leave early to help with the evacuation of his girlfriend's family. When I stepped off the plane, I learned that the Santiago Fire had just begun, threatening Silverado, where I live.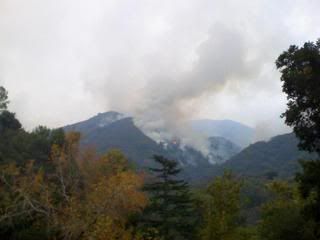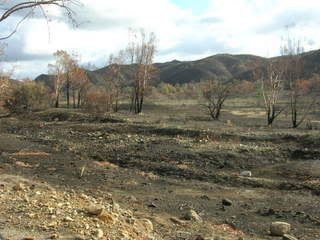 I stayed behind with my neighbor who is a retired Orange County Fire Authority Battalion Chief for the entire two weeks that Silverado was evacuated. I had to do it, no matter the time and money lost at work and at the campaign. My community - my friends and neighbors - needed help, and by dumb luck I was in a position to provide it.
That's Mike conferring with Battalion Chief Pat. As a courtesy, I'm choosing a shot that doesn't show too much of his face. He's a Republican, after all -- though he's one of the good ones: someone we can work with, someone who has the interests of America at heart.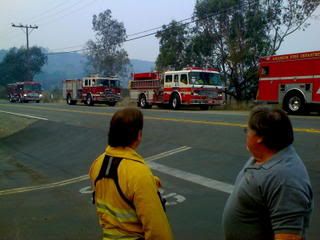 It got scary for a few days. There was one day when it looked like we were going to lose everything. I had sent my wife - whom I had by then not seen for days - down the canyon into our "refugee camp" with what we thought we could salvage. (Never as much as you think, and you always think about what you leave behind.) But, despite the weather forecast, the Santa Ana winds were kind to us that one day. They died down and gave the amazing fire fighters a chance to beat back the fire while it slept. These men and women have the right stuff.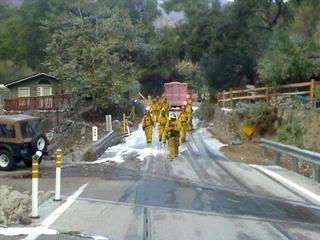 A fire drops out of the news cycle long before it drops out of the lives of those affected by it. After two weeks of fire, it became clear that my community would be almost alone, among the canyons, in being spared by fire. (I credit Mike with doing a lot to make that happen.) Even so, for weeks afterwards, when I was not catching up on work, I spent my free time getting rid of all the trees and bushes that were cut down to clear houses of fuel for the fire if it came down the hill to our houses. (Sorry, I don't have any pictures of me with my chainsaw.) Since then, we've had to watch and prepare for the autumn and winter rains that can bring mudslides and landslides, and to take what steps we can to protect ourselves. Ultimately, our protection comes from those small parts of nature beyond our control - grass, weeds, bushes, flowers, and saplings putting down roots to hold the land fast to where it lays. I've already seen the small shoots of new plant growth that gives hope that we might survive the storms to come.
While all this was going on, politics continued. A little while after our trip to Chicago, while I still could not be raised by phone, we were contacted by a general consulting firm. Being a long time Kossack I was skeptical. I bought a charter copy of Crashing The Gates and had a generally unfavorable opinion of consultants. I agreed to a meeting with these guys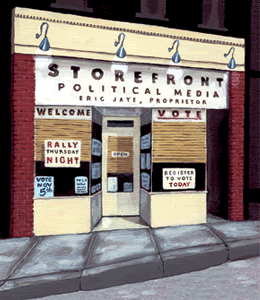 and I was impressed. I don't know where they came from to find me but I think someone is looking out after us. Check out their client list; it's pretty impressive. But even more important than that, they understand and respect the way that we in the netroots view the world. Check out their ads on that site. We're going to have fun working with them and I think you're going to like what you see.
After the meeting where they told me that they wanted to spend a day with me to get to know me so that they can create the campaign around who I am I agreed to hire them.
Some of you may wonder what this means for Greg's role in the campaign. Don't worry. His strong advice was that I hire these guys. Greg said that if we were just running to be a pain in the ass to Gary Miller, his experience as an activist would outweigh his inexperience as a campaign manager. But he and I agree that we now need to professionalize. Thanks to his many ethics violations, Miller's campaign itself is a mudslide waiting to happen. That means that we can win - with some help from the winds - and we need people advising us who know how to win: the sort of people who will be helping Charlie Brown win this year. But though what started as a campaign run out of a room in an apartment will now be run out of an office, its spirit and its content won't change.
The decision to hire them was mine but Greg was involved (and enthusiastic) at every part of the process. He has said from the beginning that at some point he would step aside for someone of more experience. There would be no campaign if it were not for Greg. While we were all talking about the possibility of putting together a campaign, it was Greg who said that it wouldn't happen unless someone volunteered to stand behind me and walk or drag me through the necessary steps. He brought me to my first events, assembled our stellar list of Kossack supporters for one awesome online roll out, and spoke in my place during the worst times of October. He will still be making things happen here in the district when he returns from Asia next week, but we'll have some real serious pros calling the shots.
Originally, the point of doing this was to make some noise. Now we want both to make some noise - and to reinforce nationally the theme of Republican corruption - and also to win. In previous years, Gary Miller has funded campaigns throughout the country from his campaign war chest; this year, he's going to have to spend his money trying to hold his own seat - and he's still going to lose.
I need your help to win. I'm one of a small number of people who were Kossack before they were candidates. I need to show a lot more people what the netroots can do. I want to remain out front and continue moving forward to a win in Nov 08.
I now do have a primary challenger - he seems like a nice guy, but not only does he not live in our district, he doesn't even live in an adjacent district. He can't self-fund, doesn't have a huge political base from his service on his home school board, and it's not clear how he could compete with Miller in a general election. But even though I expect to have the endorsements of all the major Democrats in and around the district, in a low-turnout primary election strange things can happen. I need to raise enough to blow the challenge out of the water, so that the publicity from a primary challenge becomes a benefit rather than a burden.
I'm asking you to contribute to my campaign before this quarter ends on New Year's Eve, and to become or continue to be part of the movement to change the face of American politics. Until we get public financing of federal elections, the money someone like me needs to run must come from people like you. You are the roots that help hold this campaign fast during the storms to come. Many Kossacks have already contributed and many are recurring contributors. For that, I'm honored.
Democrats are raising phenomenal amounts of money this year - but that's mostly Obama, Hillary & Edwards. I just checked my ActBlue page and I don't see any donations from any of them. Neither the DCCC or the most prominent bloggers will dig down and help ANYONE running for Congress until the candidate proves they can raise money. That's the way it is and I won't whine about it. I recognize reality and I have to work with that.
It all comes down to you and the grassroots. We will be holding a lot of house parties and I will be making lots of calls. Then I will come here to ask for your contribution to my campaign. I don't see you as an ATM; my history here makes it clear that I see this community as part of my campaign. I share your concerns and your perspective and your fierce desire for change.
The things I learn from you on this site gives me the knowledge that I need to understand the issues. (One recent speech I gave on health care was 90% taken from nyceve's great work.) You are an integral part of everything I do. Even though most of you don't live in the CA 42nd your interest is in having a Democrat in Congress who will look out for the interests of America and Americans.
Thank you for all you've done this past year, for all you will do this next year, and for whatever aid you can give our campaign. I wish us all a happy - and successful - new year.